All of our local teachers have comprehensive knowledge of African or African-influenced music, with experience of African styles of learning and education.
Laurence Hill
Laurence graduated from Trinity College of Music in Greenwich with 1st Class Honours in 2008, after being nominated for the Gold Medal Award, the College's highest performing accolade. Since graduating, Laurence has travelled to Ghana, Senegal, Guinea and Mali to continue his musical studies in African music, as well as Rio de Janeiro, Recife and Olinda in Brazil to study Afro-Brazilian music.
Laurence plays all kinds of African-influenced music professionally, performing with world percussion group Talking Drum, and is regarded as one of the best African percussion teachers in the UK.
James Green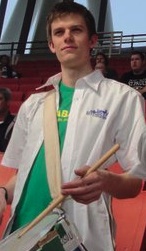 James teaches music to students at all levels, from those taking their very first steps in primary school Wider Opportunities programmes to Grade 8 students hoping to be the next generation of professional musicians.
His first instrument is percussion, having graduated from Trinity College of Music with 1st Class Honours in 2008. He performs regularly as a professional timpanist and percussionist with London's orchestras including the English National Ballet, Royal Philharmonic Orchestra and the BBC Symphony Orchestra.
He also performs with world percussion group Talking Drum, who perform music from Africa, Brazil and Cuba, and is a former member of Rhythms of the City, a carnival samba band led by Barak Schmool, co-founder of the F-ire Collective and one of Britain's leading 'World' and African dance music experts.
James has many years of whole class primary school tuition experience, having taught for Greenwich Music Service and Newham Music Service, where he teaches samba and African drumming to whole classes of primary school children.
Associate teachers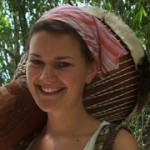 Abigail Bailey – Abigail is a percussionist, vocalist and bass guitarist who specialises in folkloric music from Africa and Brazil. With over 7 years of "outstanding" Wider Opportunities teaching experience, Abi makes a continued effort to update her teaching repertoire, paying visits to West Africa in order to continue her study of African music, dance and song. Abi has a strong singing voice, having sung lead vocals for Ghanaian Ewe group London Atsia Collective. She also plays bass with electric highlife band AJ Holmes & the Hackney Empire and freelances as a bassist and singer. Abi has received numerous "outstanding" lesson observations from Tower Hamlets Arts and Music Service (THAMES), for whom she currently works both as a teacher and training fellow staff in percussion workshops skills. www.abibailey.com
Jeremy Shaverin – Jeremy graduated from City University in 2010 with a degree in music, where he studied percussion with Barak Schmool. He plays percussion, cavaquinho and directs with many of the UK's leading samba bands including Rhythms of the City, Paraiso and London School of Samba, while working on his own projects. He also performs with world percussion group Talking Drum Jeremy also teaches Wider Opportunities whole-class percussion and musicianship in primary schools in north London. www.jeremyshaverin.com
Gabrielle Messeder – Gabrielle's first instrument is piano, and has taught music both privately and in schools for 6 years. She has a masters degree in ethnomusicology, and plays percussion and sings with Quintal do Samba and London School of Samba.
Simon Whittaker – Simon is a percussionist with a varied CV, performing all kinds of music from opera to samba. He has studied many styles of African-influenced music, having travelled to Guinea to learn with master djembe-drummers and Rio de Janeiro to study samba. He performs with world percussion group Talking Drum, and has performed samba with Rhythms of the City and salsa with his own band Nuevo Rhythm Orchestra. He currently teaches drum kit and percussion privately and in schools, including directing a percussion ensemble and leading workshops in African drumming and samba. www.whittakerdrums.tumblr.com