African Drumming Classes in Greenwich
 Tuesday Evenings 8pm-9:30pm:
Beginners 8pm-9pm
Intermediates 8:30pm-9:30pm
Greenwich West Community Centre, 141 Greenwich High Road, SE10 8JA
We are in Room 4
COME AND TRY IT OUT – FIRST SESSION £5 or **FREE** if you sign-up for 4 more!
Welcome to our website for African Drumming Classes in south-east London. We provide drumming workshops for schools, businesses and institutions in London and the south-east as well as our community evening drumming classes, which have been running since 2010 in Greenwich.
If you are a keen and interested Londoner looking for a drumming class to attend, well done you've found us! You can learn more about our classes by listening to our feature on local radio station 'In the Meantime' here.
If you're just keen and interested, please check out our interesting articles and tuition videos, or be inspired by our videos of Ghanaian drumming and dance troupe Noko Ye Dzen.
**NEWS** 02/01/17 HAPPY NEW YEAR! Classes begin again tomorrow, Tuesday 3rd January. We will start the year with a new dance rhythm: Tiriba. Hope you can join us! More session dates here.
**NEWS** 05/12/16 CHRISTMAS IS COMING! We have 2 sessions remaining until our Christmas break. Join us on 6th and 13th December for our most festive classes of the year – finishing off with another performance at Amersham Arms Open Mic Night on Wednesday 14th December. Mulled wine all round!
**NEWS** 29/08/16 WELCOME BACK! African drumming classes begin again on Tuesday 6th September at 8pm at Greenwich West Community Centre after our summer break. We looking forward to welcoming drummers of all ages and abilities again! Email africandrumming@hotmail.co.uk to tell us you're coming!
**NEWS** 28/06/16 WORLD PERCUSSION MASTERCLASS Laurence will be giving a World Percussion Masterclass on Wednesday 10th August at the Amersham Arms in New Cross, before performing with world percussion group Talking Drum. Details to follow…
**NEWS** 01/06/16 AMERSHAM ARMS PERFORMANCE Well done to our class members who performed at Open Mic Night at the Amersham Arms in New Cross. We'll be back again soon!
**NEWS** 16/12/15 MERRY CHRISTMAS! Thanks to those who attended our first one-off intermediate masterclass last night, we hope you enjoyed it. That was a last session of the year, so we look forward to seeing you in 2016 beginning on Tuesday 5th January! Merry Christmas and Happy New Year to all!
**NEWS** 01/12/15 ONLY 2 SESSIONS LEFT IN 2015 We finish our classes at the Greenwich West centre next Tuesday 8th December so make sure you come along before it's too late for 2015! There are, however, still spaces on our Intermediate 'Performance Masterclass'. Email now to sign up! africandrumming@hotmail.co.uk
**NEWS** 10/11/15 PERFORMANCE MASTERCLASS @ NEW HADDO For our final week of African drumming for 2015 we will be running a performance masterclass at the New Haddo Centre in Greenwich. The masterclass will be on Tuesday 15th December 6:45-9pm. Read all details here!
**NEWS** 08/09/15 NEW TIME AND VENUE African drumming classes start TONIGHT at the later time of 8pm. We will run one long class until 9:30pm! Please come to Greenwich West Community and Arts Centre, Room 4. View Map
**NEWS** 22/07/15 PERFORMANCE! Classes are over for the summer – we will return again on Tuesday 8th September. However, we would like to invite you to join us at the Admiral Hardy next Thursday 30th July for a farewell performance at open mic night!
**NEWS** 28/05/15 CLASSES START ON TUESDAY Our classes will begin again, after our 5 month hiatus, on Tuesday 2nd June! We have a new 4-week intermediate course, 'playing the dunduns'. Look forward to seeing you all again in June!
**NEWS** 04/02/15 LOZ´S BLOG Read class teacher Laurence´s blog about the music he has encountered in north-east Brazil on the Loz´s Blog page.
**NEWS** 18/12/14 NO WEEKLY AFRICAN DRUMMING CLASSES UNTIL JUNE Class teacher Laurence is off to Brazil, Australia and New Zealand on more music-inspired travels from January until mid-May so there will no more weekly African drumming classes for 5 months! In the meantime watch out for news on occasional classes with a guest teacher.
*NEWS** 16/12/14 MERRY CHRISTMAS AND HAPPY NEW YEAR! We had our last session before the Christmas season this evening. Thanks and congratulations to all on our latest intermediate course – you all did fantastically well in being master-drummers! It is also our last session for a few months whilst Laurence goes off on his travels.
**NEWS** 27/10/14 'THE MASTER-DRUMMER' INTERMEDIATE COURSE Our brand new intermediate course begins on Tuesday 4th November and runs for 7 weeks until 16th December. On this course students will learn solo master-drum phrases, and will have to opportunity to take turns in leading the class! More information here – Email africandrumming@hotmail.co.uk to book your place.
Come and join us!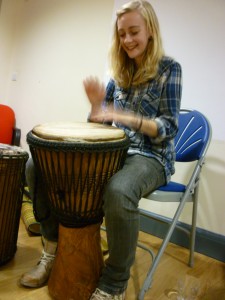 African drumming is a great skill to learn, and a fun way to meet friendly and like-minded people! It is accessible to anyone and everyone with a sense of rhythm and a willingness to learn, a truly enjoyable way to spend an evening!
Visit The Classes page to learn more about our sessions.