We offer inspirational African drumming workshops for schools, businesses, charities, private parties and one-off events.
African drumming workshops can be incredibly beneficial for people of all ages. Taking part in our workshops is engaging, confidence-building, stress-relieving and helps to promote group awareness. Participants get to improve their listening skills, sense of rhythm, co-ordination, self-discipline, creative expression and self-confidence while providing great fun and togetherness!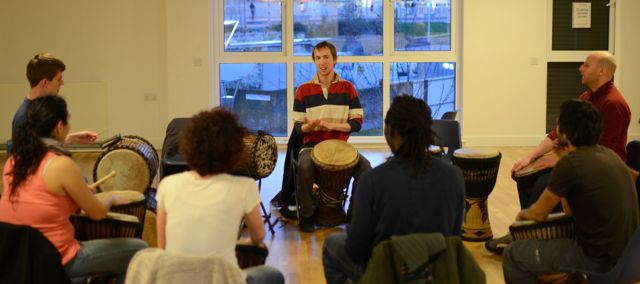 "Thank you so much for the workshop – it was great! The feedback from the performance was amazing"
George Green School, Jul 2011

"Everyone enjoyed it immensely. The mutual feeling was that you are a wonderful and knowledgeable teacher, with such a lovely style, honesty and interest, you were highly appreciated."
Anjana, private birthday party April 2022
Workshops for businesses, charities and other projects
Our adult workshops are extremely popular with a wide range of groups and businesses. We work in a relaxed and easy-going manner perfect for team-building and away-days. We have provided African drumming workshops to everyone from law firms to counselling groups, hen parties to an Alzheimer's charity – all with excellent feedback!
"We loved the workshop you ran. The students were truly invigorated by the drumming, you were fantastically encouraging and kept a great pace to the hour."
Place2be Counselling Charity, Oct 2011
Workshops range from 60mins to a whole day or more!
We can work toward a group performance for colleagues, family and friends
Everyone gets their own drum
We can cater for groups of up to 30 at a time
We have full public liability insurance
Workshops for schools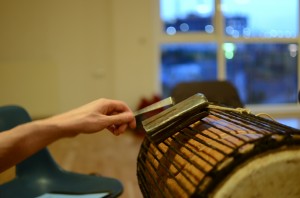 Our tutors have a wealth of experience working in primary and secondary schools all over London. We believe this experience sets us apart from others offering similar workshops.
Having detailed knowledge of the National Music Curriculum allows our tutors to provide all the key elements of the curriculum, while we can also offer a complete break from everyday school-life by departing from the curriculum entirely!
In contrast to formal western styles of musical learning, African music is traditionally taught aurally. Consequently, the skills acquired from learning music in this way are quite unique and vital for children and adults alike.
"We received some really glowing feedback this year from all groups that you worked with! They really enjoyed themselves, commenting that the workshops were really enjoyable, hands-on and challenging. They've already asked when you can come back again!"
Whitmore High School, July 2017
Workshops range from 30mins to whole day or more!
Every child is provided with their own instrument
We can work towards a group performance for classmates, a special assembly or an evening concert
All of our tutors have up-to-date CRB certificates and public liability insurance
We are able to cater for groups of up to 30 children at a time
We also offer African music classes all year round for primary schools who are looking for high quality musical education in their school. See our African Music School project page for more details.
If you would like an African Drumming Workshop in your school, business or institution please contact us…
via email:
africandrumming@hotmail.co.uk
or phone Laurence:
07817 769 029