Keep up-to-date with Drum Africa Community Band performances on Facebook
**UPCOMING PERFORMANCE:** Brockley Max Festival – Saturday 27th May 2022
Come and see us perform outside the Ladywell Fields park cafe between 11am-12noon. Entry is free and all are very welcome!
Admissions band night at the 'Fox and Firkin' – Wednesday 8th December 2021
We performed a 20-minute set at the Fox and Firkin's 'Admissions' band night. Well done to everyone in the band who played amazingly well! Watch some of the highlights on Facebook or on YouTube!
Rooftop performance, Cambridge Heath – Sunday 11th July 2021
We had a great time at our inaugural 'Drum African Community Band' performance. Well done to everyone who performed rhythms that were mostly learnt on Zoom during lockdown! Watch some of the highlights below:
Performance Archive:
Open mic night performances at the Bird's Nest pub, Deptford – Wednesday nights
The class performs three to five times a year at the Bird's Nest pub on Wednesday evenings. All class members are welcome to join the fun, whatever their level of experience or confidence!
African Music Night at 'The Admiral Hardy' – Thursday 20th March 2014
Our drummers gave the regulars at the Admiral Hardy 'open mic night' in Greenwich quite a shock with their fantastic performances of djembe drumming from Guinea. Congratulations to both classes for their expert drumming – and also to members of AMN regulars Noko Ye Dzen for performing, and helping out the class with some beautiful dundun basslines!
African Music Night at 'The Blacksmith and the Toffeemaker' – Tuesday 26th November 2013
We had a fantastic night in Angel with both of our classes performing alongside class teacher Laurence's group Noko Ye Dzen. Thanks to everyone who came down and well done to all who took part, it was a great night!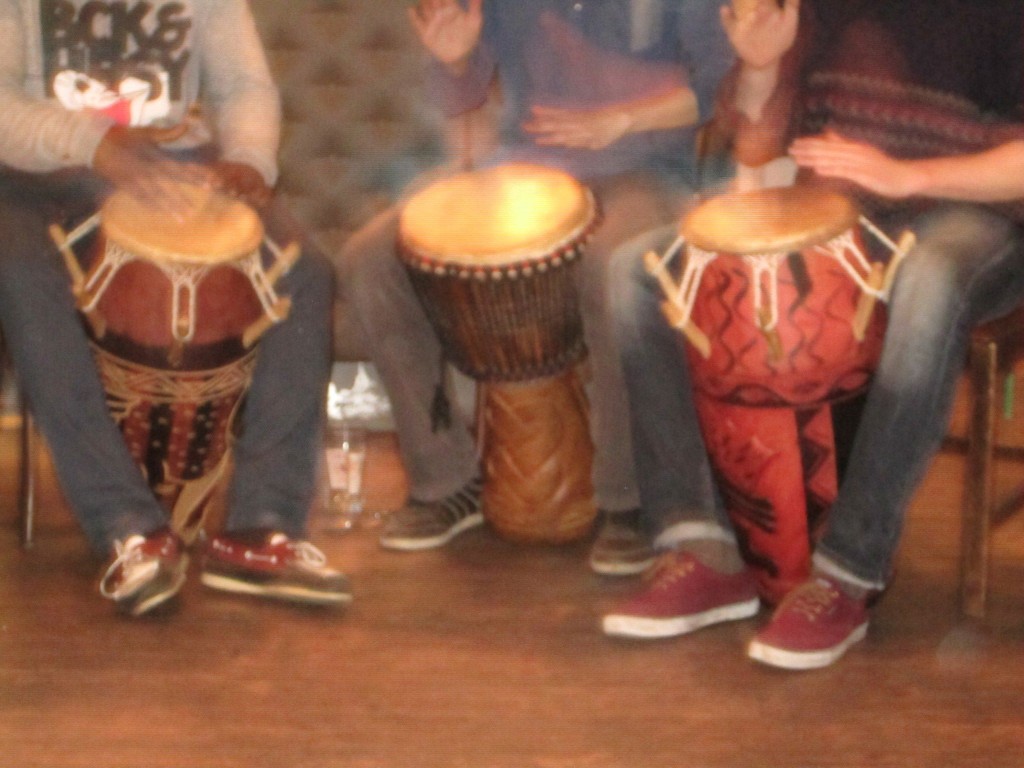 African Music Night at 'the 10 Centre' – Tuesday 6th August 2013
In August 2013 we invited guests (aided by food and drink bribes) to see us perform exclusively in our natural habitat at 'the 10 Centre' in Greenwich! We performed kpanlogo music for the first time with our intermediate group, as well as djembe drums, and were joined by special guests Noko Ye Dzen performing their upbeat traditional Ghanaian rhythms from Accra. It was a fantastic evening, thanks to all who came along and donated towards the African refreshments!
African and Pagode Music Night - Tuesday 21st May 2013
Our intermediate class performed at the Blacksmith and the Toffeemaker pub in Angel, sharing the bill with Ghanaian folk drumming ensemble from Noko Ye Dzen and the Rhythms of Brasil samba pagode jam session. Thanks to those who came along in support – amazingly the pub landlord said he would allow us back in future, so we hope to see you all there again soon!
African Music Night – Friday 23rd November 2012
Our group performed to a packed crowd supporting Noko Ye Dzen and Rhythms of Brasil at The Duke pub in Deptford. We had a great turn out from our class members, playing two dances, and giving the Friday night locals a bit of a shock in the process!
Summer 2012
We had busy summer with our African drumming group this year, with performances at local summer fetes and events including the Plumstead Make Merry Festival on Saturday 2nd June.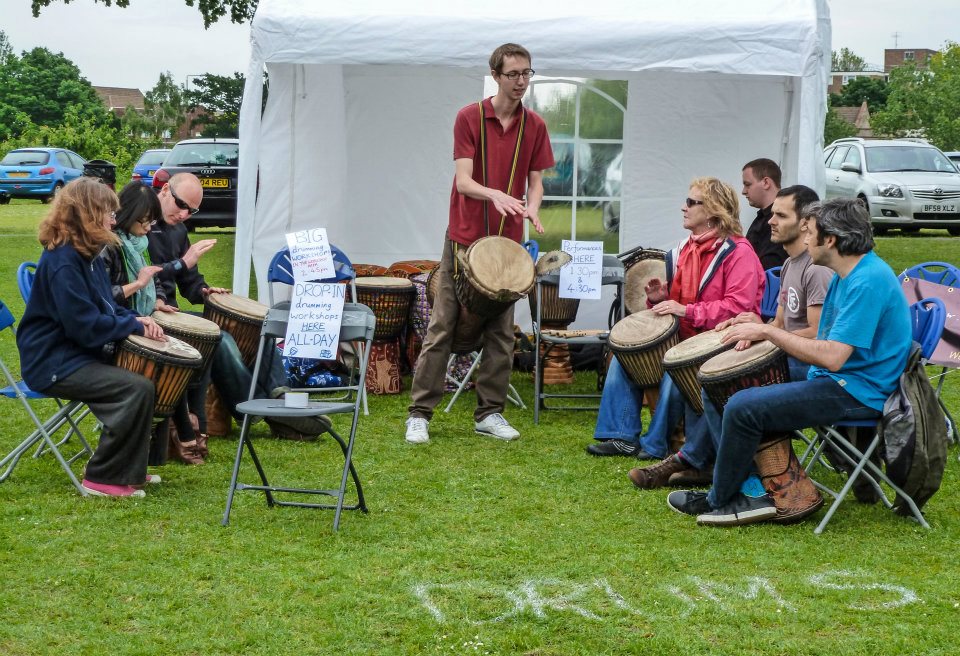 And 'The Extraordinary Mile' charity event run by AbleChildAfrica, a charity that helps disabled children in Africa, on Clapham Common on Saturday 16th June.
African Music Night – Friday 2nd September 2011
Our African Drumming group performed at the inaugural African Music Night, presented by Drum Africa at Oliver's Jazz Bar, supporting traditional Ghanaian drumming group Noko Ye Dzen and North African fusion from headliners Seeds of Creation. It was a fantastic night, and thanks to all who came along!
Charlton Horn Fayre – Sunday 19th June 2011

Our group performed at the opening ceremony at this summer's Charlton Horn Fayre at Charlton House. The Horn Fayre is a festival that dates back to the 13th Century, which was banned in Victorian times for the unruly behaviour of the peasants who attended it.
Having been brought back in 1973, our African Drumming Group helped to re-ignite the fayre with its unruly roots!