Abdoul Tounkara sells beautiful sounding authentic instruments imported from Conakry in Guinea. His latest shipment arrived in May 2019, so get in touch if you're interested in buying an instrument!
Abdoul's drums are based in Battersea, London. All sizes below are approximate as every drum is handmade and totally unique!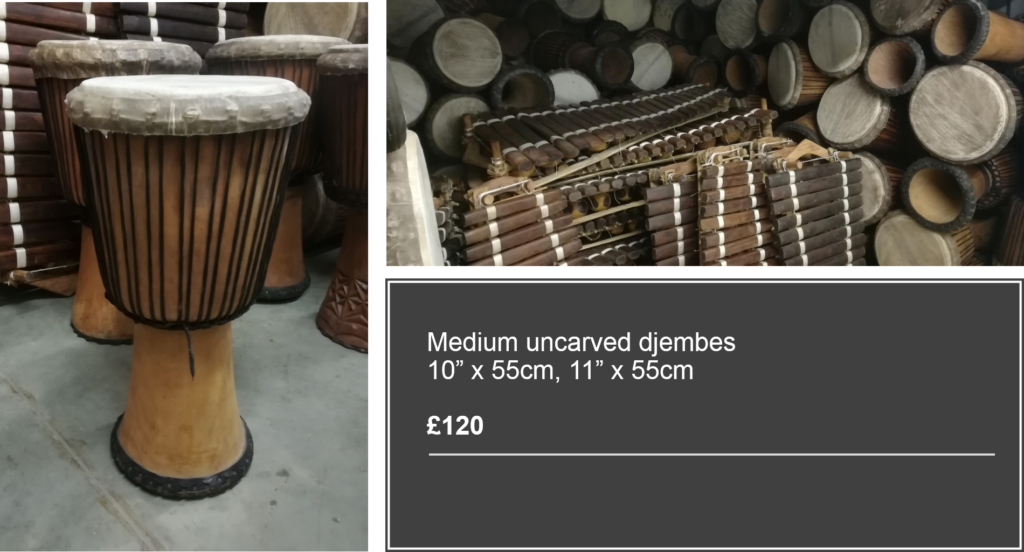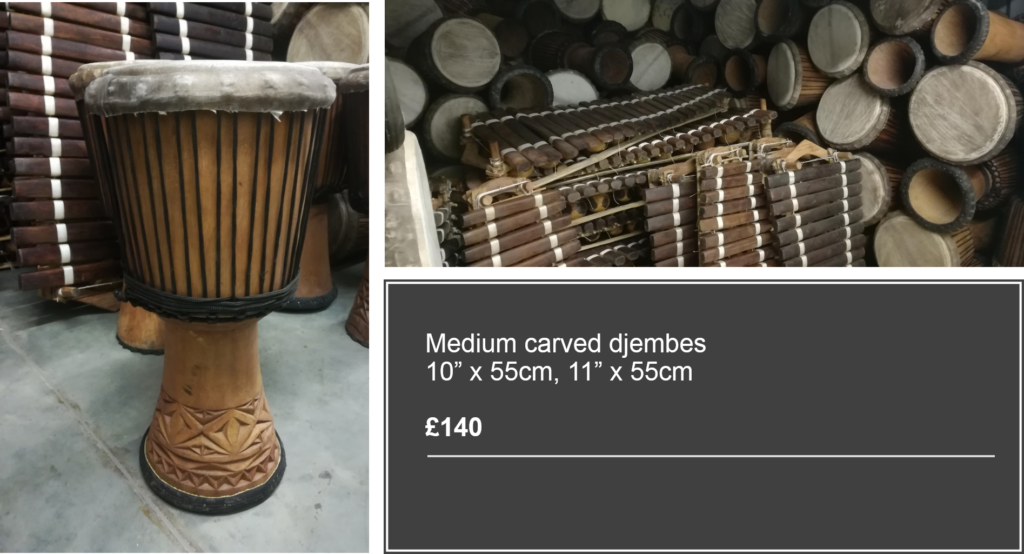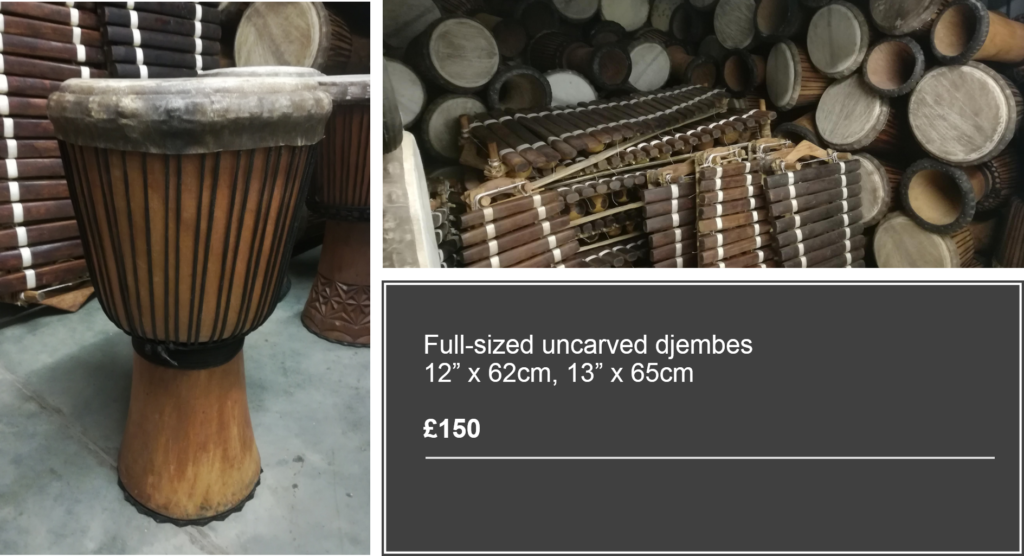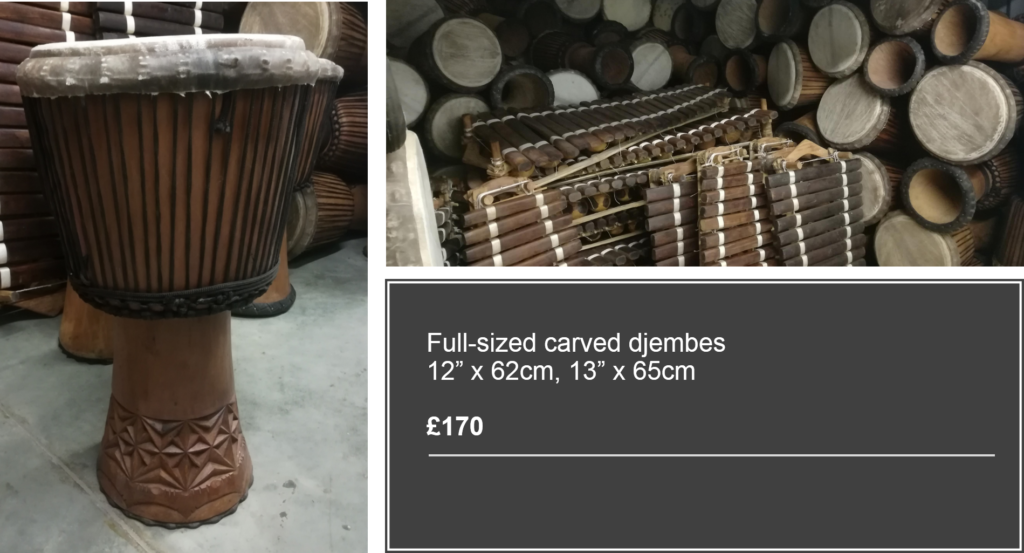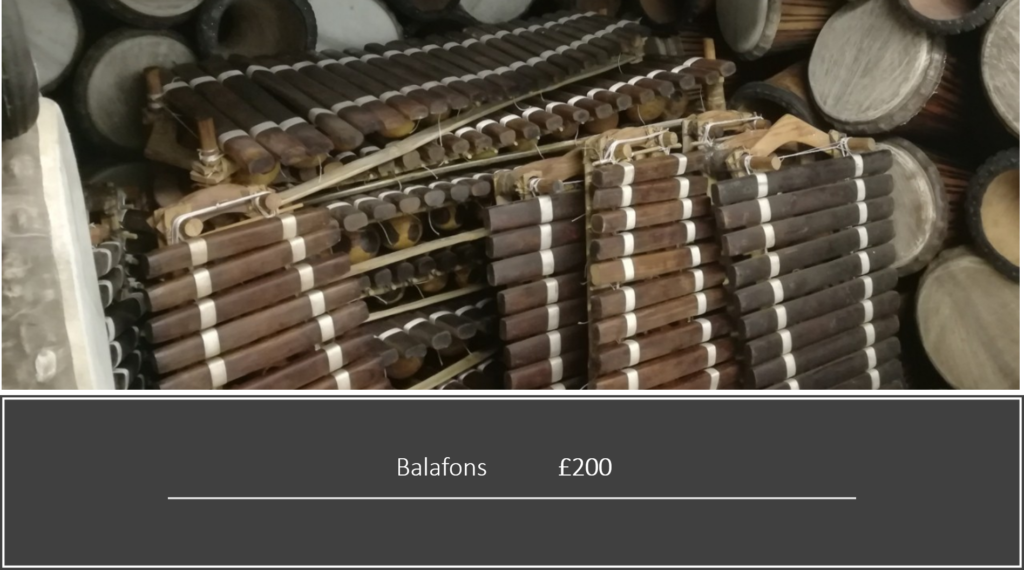 Quote "Laurence" when you get in touch and he will provide you with a great service, allowing you to try out as many drums as you like until you find the djembe you want.
Appointments and purchases can only be arranged by phone – please contact Abdoul to organise a time to visit his mystical djembe cave of joy:
Abdoul Tounkara: 07405 770 462
Discounts are available for schools and charities who wish to buy in bulk:
Medium djembes:
10 djembes (uncarved) for £1000
10 djembes (carved) for £1200
20 djembes (uncarved) for £1900
20 djembes (carved) for £2300
Full-sized djembes:
10 djembes (uncarved) for £1400
10 djembes (carved) for £1600
20 djembes (uncarved) for £2600
20 djembes (carved) for £3000
Abdoul also offers delivery to the anywhere in the UK for an additional cost.
Purchasing advice:
All djembes are sold untuned, which means that the tone sound will be fairly low pitched, and the slap sound will have resonant overtones. Visit our djembe page to learn how to tune your djembe up once you've bought it so that it will sound tight and crisp! When choosing a djembe try to select one with a goat skin without any blemishes as it will be less likely to tear. Heavier djembes tend to sound nicer, but are obviously harder to transport around with you!
Here is a video to show you just how great Abdoul's djembes sound – we are very happy with our new drums and would highly recommend them to anyone!