Noko Ye Dzen are a Ghanaian culture group based in Carprice in Accra, the capital city of Ghana in West Africa. The name "Noko Ye Dzen" comes from a Ghanaian proverb meaning "there is something in the world", chosen because of the marvellous feats the group achieves.
The group was founded in 2002 by Daniel Asare, who saw the need to gather the youth in the area to train and teach them traditional Ghanaian culture in the form of story-telling and dance.
The troupe, made up of approximately 15 to 20 boys and girls aged between 12-20yrs, have performed in a wide variety of venues in Accra including:
The National Art Council
National Theatre
School of Alliance Francaise
37 Military Hospital
Independence Square
National Conference Centre
State House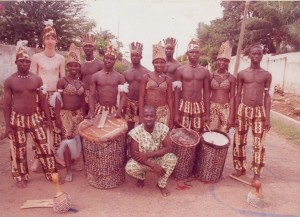 The group perform drumming, dance and song from many different tribal regions of Ghana including Kpanlogo, Gome, Fume Fume and Tsegari from the Greater Accra region (Ga tribe); Togoacha, Achagbeco and Kadodo from the Volta Region (Ewe tribe); Bewaa, Nagra and Bema from the Northern and Upper West Regions (Dagomba, Dagaaba tribes); Atopre and Otofo from the Eastern Region (Akuapem tribe).
As well as performing dances from the many Ghanaian tribes, Noko Ye Dzen perform dances influenced by culture from other West African countries such as Senegal, Guinea and Mali.
The djembe drum, which originated from the Mandinka people of the great Mali Empire during the 12th Century, has been embraced by almost all West African countries, including Ghana.
Noko Ye Dzen perform many djembe-accompanied dances such as: Zoo Dance, Sinte, Kumpo, Jumjumba and Kukuru; all of which are influenced by Guinean, Malian and Senegalese culture.
The group rehearse 4 times a week at their own training ground in Carprice between 5pm-7pm.
If you'd like to see Noko Ye Dzen live, they are available for performances worldwide. If you wish to invite them to perform for you please contact: africandrumming@hotmail.co.uk.
Founder and Organizer- Mr. Daniel Asare
President- Lt. Col. Sally Mensah
General Secretary- Ms. Lake
Financial Secretary- Kefas
Porter- Gloria Mensah
U.K. Manager- Laurence N. Hill