Here you can read all of our news stories from the olden days.
**NEWS** 16/12/15 MERRY CHRISTMAS! Thanks to those who attended our first one-off intermediate masterclass last night, we hope you enjoyed it. That was a last session of the year, so we look forward to seeing you in 2016 beginning on Tuesday 5th January! Merry Christmas and Happy New Year to all!
**NEWS** 01/12/15 ONLY 2 SESSIONS LEFT IN 2015 We finish our classes at the Greenwich West centre next Tuesday 8th December so make sure you come along before it's too late for 2015! There are, however, still spaces on our Intermediate 'Performance Masterclass'. Email now to sign up! africandrumming@hotmail.co.uk
**NEWS** 10/11/15 PERFORMANCE MASTERCLASS @ NEW HADDO For our final week of African drumming for 2015 we will be running a performance masterclass at the New Haddo Centre in Greenwich. The masterclass will be on Tuesday 15th December 6:45-9pm. Read all details here!
**NEWS** 08/09/15 NEW TIME AND VENUE African drumming classes start TONIGHT at the later time of 8pm. We will run one long class until 9:30pm! Please come to Greenwich West Community and Arts Centre, Room 4. View Map
**NEWS** 22/07/15 PERFORMANCE! Classes are over for the summer – we will return again on Tuesday 8th September. However, we would like to invite you to join us at the Admiral Hardy next Thursday 30th July for a farewell performance at open mic night!
**NEWS** 28/05/15 CLASSES START ON TUESDAY Our classes will begin again, after our 5 month hiatus, on Tuesday 2nd June! We have a new 4-week intermediate course, 'playing the dunduns'. Look forward to seeing you all again in June!
**NEWS** 04/02/15 LOZ'S BLOG Read class teacher Laurence's blog about the music he has encountered in north-east Brazil on the Loz's Blog page.
**NEWS** 18/12/14 NO WEEKLY AFRICAN DRUMMING CLASSES UNTIL JUNE Class teacher Laurence is off to Brazil, Australia and New Zealand on more music-inspired travels from January until mid-May so there will no more weekly African drumming classes for 5 months! In the meantime watch out for news on occasional classes with a guest teacher.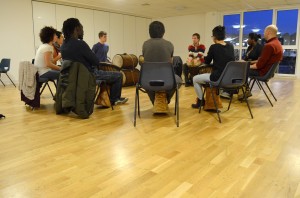 *NEWS** 16/12/14 MERRY CHRISTMAS AND HAPPY NEW YEAR! We had our last session before the Christmas season this evening. Thanks and congratulations to all on our latest intermediate course – you all did fantastically well in being master-drummers! It is also our last session for a few months whilst Laurence goes off on his travels.
**NEWS** 27/10/14 'THE MASTER-DRUMMER' INTERMEDIATE COURSE Our brand new intermediate course begins on Tuesday 4th November and runs for 7 weeks until 16th December. On this course students will learn solo master-drum phrases, and will have to opportunity to take turns in leading the class! More information here – Email africandrumming@hotmail.co.uk to book your place.
**NEWS** 22/10/14 AFRICAN DRUMMING AT OPEN MIC NIGHT After the success of our intermediate group's open performance session on Tuesday, we are performing at the Admiral Hardy open mic night. Feel free to come along to watch, or even take part with the sing-alongs!
**NEWS** 04/09/14 INTERMEDIATE COURSE Our brand new 'art of performance' intermediate course will begin this Tuesday 9th September, running for 7 weeks. Read all about it on the intermediate course page. Sign up by email now! africandrumming@hotmail.co.uk
**NEWS** 12/08/14 PERFORMANCE CLASS Many thanks to those of you who came to attend our open performance class at 8pm at the centre this evening. It was a fantastic event where our intermediate students excelled in joining professional band Noko Ye Dzen to perform genuine authentic Ghanaian kpanlogo music.
**NEWS** 02/07/14 AFRICAN DRUMMING IS BACK! Our Tuesday evening classes are back from Tuesday 22nd July, with our 7pm drop-in class and a 4-week intermediate course on Ghanaian drumming at 8pm.
**NEWS** 08/05/14 MANY THANKS Thanks to Hans Sutton for his fantastic workshop on the traditional Malian dance rhythm Fura, our class members greatly enjoyed the day. If you missed out, don't worry, we will bring you another workshop soon!
**NEWS** 31/03/14 HANS SUTTON WORKSHOP 26th APRIL In the absence of our Tuesday evening classes, Drum Africa presents an all day workshop with the highly-esteemed Hans Sutton on Saturday 26th April. All information about the workshop and booking your place can be found on our facebook event.
**NEWS** 25/03/14 FINAL AFRICAN DRUMMING CLASS We are taking a break from our Tuesday evening classes while African drumming teacher Laurence has an operation. As soon as he has recovered, we will be back to provide you with your weekly Tuesday drumming fix! We will inform you here on the website as soon as the class starts up again. Happy Easter!
**NEWS** 18/03/14 AFRICAN MUSIC NIGHT! We would like to welcome you along to our latest African Music Night at the Admiral Hardy pub in Greenwich on Thursday 20th March. It kicks off at 8pm, so be sure to join us then!
**NEWS** 21/01/14 INTERMEDIATE COURSE BEGINS TONIGHT! Join us to learn traditional dances Yankadi and Mendiani on our Swing styles in djembe drumming intermediate course. Tuesday evenings 8pm-9:15pm.
**NEWS** 14/01/14 NEW INTERMEDIATE DRUMMING COURSE We will start our brand new intermediate African drumming course on 21st January, entitled Swing styles in djembe drumming. No we're not referring to 1920s American swing-band styles, but the specific feel of West African music created by the slightest changes in playing off-beats. Read more about the course! £70 (£50 students), 8pm Tuesday nights for 9 weeks.
**NEWS** 22/11/13 AFRICAN MUSIC NIGHT THIS TUESDAY African Music Night is on at the Blacksmith and the Toffeemaker pub in Angel this Tuesday 26th November. Entry is £3 or £2 on the guestlist. Email africandrumming@hotmail.co.uk in advance to get guestlist entry. See you there!
**NEWS** 24/10/13 PERFORMANCE at The Blacksmith and the Toffeemaker 26th November AND HALF-TERM We are taking our half-term break next Tuesday 29th October – however we'd like to take this opportunity to invite you to join us for African Music Night at the Blacksmith and the Toffeemaker pub in Angel on Tuesday 26th November!
**NEWS** 03/09/13 INTERMEDIATE COURSE: THE ART OF SYNCOPATION IN DJEMBE DRUMMING 24th September-26th November This 9-week course will introduce students to the art of syncopation! On the course students will learn how to play syncopated Guinean dance rhythms such as Dundunba and Lanaya. The course costs £70 (£50 students with ID). See our intermediate course page for more details!
**NEWS** 30/08/13 AFRICAN DRUMMING SESSIONS BACK ON! After our 3 week summer break, African drumming classes start again this Tuesday 3rd September. Join us at 7pm for our regular mixed ability drop-in class, or at 8pm for the first of our intermediate taster sessions!
**NEWS** 10/05/13 INTERMEDIATE COURSE: WEST AFRICAN MUSICIANSHIP: FROM GHANA TO GUINEA Sign up now for our brand new exciting intermediate course! This 8-week course will take you through the vibrant rhythmical world of West African music, covering the sweet sounds of Kpanlogo folk drumming from Accra in Ghana and the ancient art of djembe drumming from the griots of the Mandinke tribe in Upper Guinea. The course will culminate in a class performance supporting an African-style headline band! Cost: £60 (£40 students with ID), Tuesdays 4th June-30th July at 8pm. Email now to book your place! africandrumming@hotmail.co.uk
**NEWS** 05/05/13 AFRICAN MUSIC NIGHT Drum Africa presents African and Pagode Music Night on Tuesday 21st May at the Blacksmith and the Toffeemaker pub in Angel. Come along to enjoy an evening of vibrant world rhythms with bands performing music from West Africa to Brazil! Our community drumming group will perform at around 7pm so don't be late! Entry: £3 (£2 guestlist) Tell us you're coming.
**NEWS** 27/04/13 NEW INTERMEDIATE COURSE Begins 4th June! Details to follow soon, register your interest now. africandrumming@hotmail.co.uk
**NEWS** 27/01/13 INTERMEDIATE COURSE 12th Feb-30th April We will be running a 10-week intermediate drumming course starting on Tuesday 12th February – 30th April. On the course you will learn to play djembe and dunduns for several African dance rhythms culminating in a performance supporting a headline African band. The course costs £75 (£50 for students). If you are interested please contact us by email: africandrumming@hotmail.co.uk – deadline to apply is 5th February 2013.
**NEWS** 15/01/13 HAPPY NEW YEAR! African drumming begins again tonight, warm up your hands and book your place now!
**NEWS** 27/11/12 CHRISTMAS BREAK This week was our final drumming session of the year as both class teachers Laurence and James are leaving to spend Christmas in Brazil! Have a Merry Christmas everyone! We'll be back for more African drumming from 15th January.
**NEWS** 17/11/12 AFRICAN MUSIC NIGHT @ THE DUKE Come on down to our African Music Night at The Duke in Deptford this coming Friday 23rd November! The community group will be performing, followed by class teachers Laurence and James' traditional Ghanaian band 'Noko Ye Dzen'. Kick-off is at 9pm and entry is free.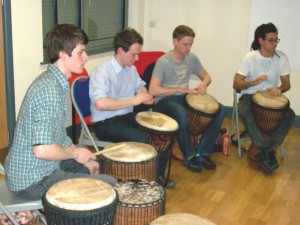 **NEWS** 31/10/12 INTERMEDIATE CLASS Our 8pm-9:15pm session will now be an intermediate class for people who have been to our classes before, or who have previous experience playing African drums. Beginners are still welcome, but be aware that you will need to learn fast to keep up!!
**NEWS** 30/10/12 NO SESSION We are having a week off for half-term, so there will be no session on Tuesday 30th October. Book your place for 6th November now! africandrumming@hotmail.co.uk
**NEWS** 27/08/12 NO SESSION We taking our Summer break this week, so there will be NO SESSION tomorrow. However, we plan to run throughout September and beyond, so book your place now! africandrumming@hotmail.co.uk
**NEWS** 16/07/12 LEON MOBLEY WORKSHOP Drum Africa presents: An evening with legendary American percussionist and djembefola LEON MOBLEY. Come along for a masterclass from the percussionist who has performed with some of America's greatest artists including Michael Jackson, Madonna, Ben Harper and Damien Marley. Wednesday 25th July 7pm-9:30pm. £20 Students, £30 Non-students. Email: africandrumming@hotmail.co.uk to book your place!
**NEWS** 12/06/12 TWO CLASSES! As of Tuesday 19th June we will be running two classes, one at 6:45pm and one at 8pm. Each class will still be 1 and a quarter hours long. We look forward to welcoming drummers old and new at these times!
**NEWS** 30/05/12 NO SESSION After an exhausting bank holiday weekend of Jubilee celebrations, I think its right that we take a break – there is no session on Tuesday 5th June.
**NEWS** 30/05/12 FESTIVAL! Come down to the Plumstead Make Merry festival on Saturday to see our group perform, and join in with free drumming workshops throughout day. Fun for all the family!
**NEWS** 07/05/12 PLUMSTEAD MAKE MERRY Our African drumming group will be performing at this year's Plumstead Make Merry Festival on Saturday 2nd June 12-6pm! Please come along to support us and enjoy a great family-friendly day out on Plumstead Common. We will also be running free workshops in African drumming all afternoon for all you budding djembe drummers!
**NEWS** 17/04/12 FLUTES FOR SALE For anyone interested in learning a bit more about African music, I have some traditional African flutes for sale! If you're unsure, here is a video of Daniel Asare playing one in Accra, Ghana. Buy Africa flutes from Ghana here or see me in person for a discount! Hurry, they are only available until 13th May!
**NEWS** 04/04/12 NO SESSION There will be no session this Tuesday 10th April, on account of the Easter holidays. Enjoy your break and see you on the 17th!
**NEWS** 19/03/12 NEW BEGINNINGS AT 'THE 10 CENTRE' The wait is finally over: African drumming classes will begin again this Tuesday 27th March at the 'The 10 centre' next to Greenwich mainline station, 29 Tarves Way, SE10 9JU. We look forward to welcoming you back to the world of African music at our exciting new location in the heart of Greenwich! See Contact and Directions for travel information.
**NEWS** 14/02/12 HALF-TERM BREAK We're taking a break from African Drumming this week – please watch this space for an update on when we recommence sessions! If you'd like to receive updates on our mailing list, please email africandrumming@hotmail.co.uk
**NEWS** 05/01/12 HAPPY NEW YEAR! Why not make your resolution for 2012 to learn a new skill? African Drumming, Thursdays 7pm-8:15pm in Blackheath. Done!
**NEWS** 15/12/11 LAST SESSION OF 2011 Today is our final session of the year. Having returned from Africa on Tuesday, Laurence will lead the session. If we don't see you there, MERRY CHRISTMAS!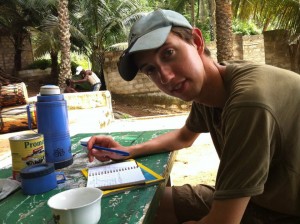 **NEWS** 15/09/11 AFRICA! Class teacher Laurence has departed for Senegal to continue his learning of African music. After Senegal he will visit Guinea, Mali, Burkina Faso and Ghana. Follow his blog here.
**NEWS** 02/09/11 AFRICAN MUSIC NIGHT @ Oliver's Jazz Bar – Thanks to everyone who came down to our first African Music Night at Oliver's in Greenwich! Our African drumming group shared the bill with Noko Ye Dzen UK, traditional kpanlogo music led by class teachers Laurence and James, and international afro-fusion band Seeds of Creation. Well done everybody!
**NEWS** 04/08/11 Change to Prices – FIRST SESSION FREE! Great new offer for all prospective African drumming attendees, get your first session for FREE! In the unlikely event that you don't enjoy it, at least it was free!
**NEWS** 31/07/11 Departing for Africa! – Laurence (African drumming class teacher) will be departing for Senegal in September to spend 12 weeks studying with West African master-drummers in Senegal, Guinea, Mali and Ghana.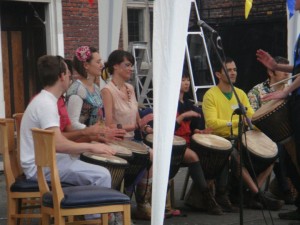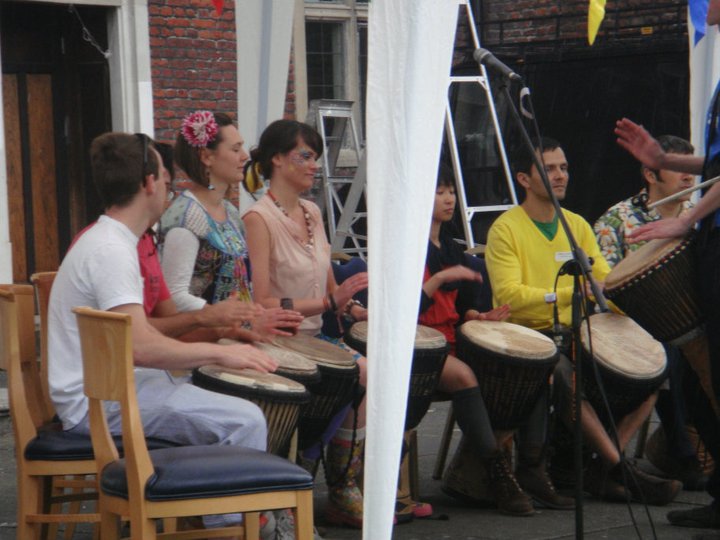 **NEWS** 19/06/11 Charlton Horn Fayre – Our African drumming group performed at the opening ceremony of Charlton Horn Fayre on Sunday 19th June at Charlton House. In addition to performing a traditional Guinean dance arrangement, the group collaborated with other local musicians to perform some English folk songs. See photos on our performances page.
**NEWS** 12/06/11 In The Meantime – The group featured on hospital radio station In the Meantime. Presenter Owen Proctor-Jackson came down to a drumming session and chatted with tutors James and Laurence as well as interviewing the students on their experiences with the group! It was broadcast live on Sunday 12th June and edited highlights are available on our website here.