An account of Laurence's experiences in Guinea, Mali, Burkina Faso and Ghana in November 2011.
ON THE ROAD AGAIN 3rd November-10th November
I said goodbye to my English friend Simon at the near-deserted airport early on Friday morning. The only other awake people there were two middle-aged white women, each saying an emotional farewell to their respective Guinean toyboys – Simon and I managed to keep our emotions under wraps. Then it was time for me also to depart, as our teachers left once again for Boket, I took an early six-place (two in the front, four in the back) to Kankan – the spiritual capital of the Malinke tribe in Haute Guinea. As usual, the six of us passengers, along with our maniac driver (its worrying when, after 4 hours of crazy driving, the driver suddenly decides to put his seat belt on…), began our long journey as strangers and ended up great friends. Fellow passenger Kabinet was especially friendly, and had a good grasp of English which he was keen to exercise.
I had intended to leave Kankan the following morning, but our late arrival, 4am, meant I decided to rest for a day. I'm glad that I did, as I soon discovered that I had arrived during the biggest holiday ('fete') of the year, and everybody in town was feeling extra welcoming. As I walked around, half sight-seeing, half looking for toilet roll, I was constantly stopped for a chat or an offer of food or drink. I was told that tomorrow there was a big music celebration, called Mamaya, for the whole town, and that I must stay to watch. So I moved to a cheaper hotel and stayed a further night.
The following morning a rasta named Karamba took me to the local djembefolas with a view to having a lesson. Being the holiday season though, the djembefolas were in relaxed mode, and as time passed my potential lesson seemed increasingly unlikely. But come late afternoon, some djembes emerged, and I was encouraged to show what I could play. We then departed on a procession around the surrounding villages of Kankan playing local traditional dance rhythms, dundunba and soli, for the energetic dancers. To begin with I tagged along behind, looking rather awkward no doubt, but after a while I was asked to play – desperately trying to hold down my supporting rhythm amid increasingly syncopated dundunba improvisations.
Unfortunately the Mamaya was postponed, due to the death of the elderly chief of Kankan that weekend, so I departed the next day for Bamako, the capital of Mali. Seated in the front of our neuf-place was a larger-than-life woman named Bejou (sp), a Guinean who had spent 'six good years' living in north-west England. After chatting for a while in English, she invited me to stay with her in Bamako, a very generous offer which I accepted. Upon our arrival I was struck by the quality of the smooth tarmaced roads, the large modern buildings, the electricity pylons and the banks (with cash machines that worked first time!). It felt like I'd arrived in the developed world, though in truth Mali is still the 10th poorest country in the world, and I was looking forward to seeing some great Malian bands.
Unfortunately, soon after I'd settled into my new house, which I shared with Bejou and her Guinean friend Amis, I fell ill. Being sick in Africa is not fun, so I stayed in bed under the mildly cooling breeze of a fan at full blast, and hoped that I'd be better by the weekend to hear some of the world's best musicians!
Mamaya – Malinke music combining traditional dundunba drumming with guitar, balafon and other melodic instruments
BANDS IN BAMAKO 10th November-17th November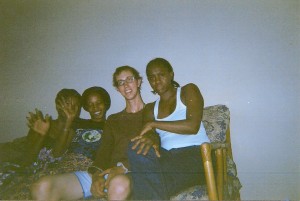 After a relaxed couple of days recovering from my illness, I spent the weekend watching some of Mali's most famous musicians in the local bars of Bamako. On Friday it was 'Toumani Diabate and his Orchestra' – though Toumani wasn't in town so his son Sidiki was standing in on kora – and Saturday night was Baba Salah at La Savana. The musicianship on display, especially that of Baba Salah, who played guitar and sang was equally high distinction, was incredible and great to watch.
I spent most of the rest of my time in Bamako obtaining VISAs for Burkina Faso and Ghana, seeing a few sights and listening to Malian radio. Listening to the radio may have been my favourite thing about Bamako – songs brimful of exotic guitar riffs, heavy traditional hypnotic beats and effortlessly cool vocals – all presented in a very rough-round-the-edges fashion – long silences between songs, abrupt changes of song mid-track or sudden surges in volume. Basically, it was a hundred times better than Radio 3's 'World music' offerings without any of the pretentiousness!
I said farewell to my kind hosts Bejou and Amis in Bamako early on Tuesday morning and took a bus to Bobo-Dioulasso in Burkina Faso. Bobo, the second city of Burkina, was a friendly place – where I spent the following morning at an interesting museum about traditional Burkinabe music. But there was no time to linger, and that afternoon, after less than 24 hours in Burkina, it was time to press on to Ghana, and I took a bus to Hamile in Ghana. Crossing the border, I said au revoir to francophonic Africa and hello English! In a few days I will be at my final destination, Accra.
Toumani Diabate – a world renowned Malian musician, Toumani is a griot and the 71st generation in his family to play kora.
kora – 21-stringed African harp with a body made from calabash.
Baba Salah – Songhai guitarist and singer, plays desert blues style music
KOKROBITE BEACH 17th November-24th November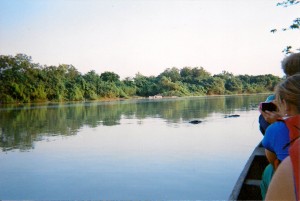 I finished off my 'holiday period' in Wechiau, a small village in the Upper West Region which hosts some of Ghana's last remaining hippos. Guided by our local young experts Abudi and Hassan (employees of the Hippo Sanctuary run by local chiefs in association with a Canadian zoo), myself, two Austrians and a Swede took a river boat tour along the Black Volta river to catch a glimpse of these rare odd-looking beasts. Though the water level was still high, after just five minutes of paddling downstream we were able to see the eyes and nostrils of about 10 hippos as they intermittently surfaced for air. We kept a safe distance (far enough to render my disposable camera useless), calmly sharing the early evening stillness with the exhaling hippos – until eventually making a slightly hurried getaway as a protective mother-hippo came close enough to cause mild panic from our chaffeur. Then, after a night spent on the rooftop of the sanctuary lodge, it was certainly time to get on with some work – so I embarked on my final long journey, by bus, to Accra.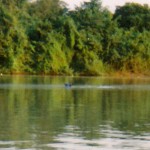 Arriving early on Saturday morning, I crossed town for a tro-tro to Kokrobite, a coastal town an hour from Accra, to meet an old teacher of mine from two and a half years ago, Sadiq. That afternoon I re-familiarised myself with the kpanlogo rhythms I had learnt all that time ago – at first with limited success! It was certainly nice to be playing again after 13 days without touching a drum. Following our two hour lesson I crashed out in my room and slept for six hours – exhausted less from the shock of playing drums but from my overnight bus ride.
For the next four days I stuck to a similarly relaxed routine, chilling by the beach making obruni friends (and local rasta ones) in between four hours of intense learning with Sadiq. By Wednesday evening I had used my last cedis watching the local culture group rehearse – and so I departed for Accra once more to meet my old friend and teacher Daniel Asare in his home neighbourhood of Carprice. He came to meet me in the bustle of Nkrumah Circle, and as we arrived together back in Carprice it felt like I'd come home – back to the place I resided and studied with Daniel for three months in 2009. This time I have only two and a half weeks to pick up as much as I can before leaving for the UK, at last!
kpanlogo – style of music from the Ga tribe in Greater Accra. It uses sweet sounding peg-tuned kpanlogo drums (pronounced pah-loh-goh) with cow skin heads.
obruni – the Twi word for 'white', used by Ghanians for all white people
cedis – currency of Ghana