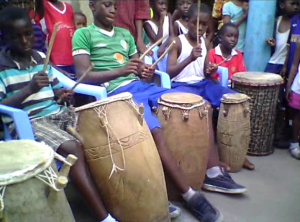 The African Music School (AMS) project aims to provide primary schools with a new and innovative whole class tuition programme based on an African-style learning system.
If you wish to learn about our teaching resources and staff training courses, visit our AMS teaching resources page.
School children between Year 1-5 will receive lessons for 30 weeks per year with an expert teacher. Our teachers are skilled professional musicians with vast performance experience in African and African-influenced music. They are all trained in teaching using an African-style learning system.
Tuition will focus on the fundamental elements of music, namely rhythm and melody, through learning songs, clapping rhythms and dancing.
Younger year groups will receive 20-minute weekly lessons where our teachers will lay down the foundations of an African music education by encouraging listening and observation, learning British nursery rhymes and African songs, fun rhythm games and learning how to move to music and clap in time.
Older year groups will receive 40-minute weekly lessons where, in addition to the above, they will learn traditional African instruments such as the djembe and flute. The oldest year group will form African music ensembles, and learn about the importance of rhythm and keeping time.
All students will learn to sing, play and dance to African music, with an option to broaden their range of repertoire to reggae, soul, Motown, pop and folk.
2 hours of demonstration performances from skilled professional musicians are included in the curriculum to inspire the children and show them what they can do!
Download the full AMS curriculum to find out more.