Academic Year 2019-20
The African Music School project (AMS) was launched in 2012 by local musician and teacher Laurence Hill after his second trip to West Africa in 2011. The aim of the project is to offer primary schools in London a new and innovative whole class tuition programme, giving children a musical education based on an African approach to learning music.
In February 2017, Laurence gave a well-received talk on teaching African Drumming the African Way at Music and Drama Education Expo where he outlined his original teaching methods to an audience of over 150 music teachers from across the UK and Europe.
You can learn all about the project on these pages and watch videos of children we have taught here in London at Boutcher School in Bermondsey, who learn the AMS curriculum from Year 1 to Year 4.
Since the AMS project was founded, we have provided expert weekly African music tuition in many schools including:
Boutcher CE primary school, Bermondsey
Harris Academy Bromley, Beckenham
Holy Trinity Sloane Square CofEÂ primary school, Sloane Square
Marvels Lane primary school, Grove Park
St Dunstan's College, Catford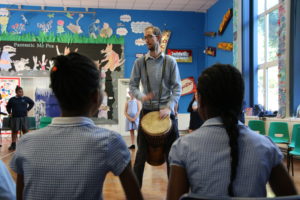 Download the documents below to learn about our curriculum and register your interest in our programme:
Download the AMS curriculum here. The curriculum not only covers all of your school's National Curriculum requirements, but also, with the help of an exciting and varied programme, will inspire young children with an accessible introduction into the rhythmically vibrant world of music and dance – using all kinds of music, not just African!
Watch inspiring videos of Daniel Asare, Laurence's teacher from Ghana, in action with the teenagers that he taught.
Visit our AMS teaching resources page if you require guidance for teaching African drumming in your classroom or if you are interested in our 'How to teach African Drumming' courses send us an email at theAMSproject@hotmail.com
Watch videos of AMS primary school Boutcher school: